Light is the most powerful way to stimulate your natural ability to heal.
LED light therapy is a treatment that uses focused light in the form of low-level lasers to stimulate a process known as photobiomodulation (PBM). During PBM, photons are emitted that rejuvenate cells and enable them to produce more energy.
Photobiomodulation
Photo = Light
Bio = Biology
Modulate = Controlling Influence.
Inlight Therapy Polychromatic Light Therapy systems make treatment easy and convenient. While traditional devices employ one color or wavelength, Inlight Therapy products use a unique, polychromatic therapy of red and near-infrared light. Each color/wavelength has a different penetration depth, and every therapy pad uses at least two colors for an optimal experience. The specialized light energy delivered by Inlight Therapy products supports the body's natural healing processes while increasing circulation and decreasing pain.
Your options to receive LED Light Therapy include one-on-one sessions with a practitioner, renting a unit for 1-2 weeks, or purchasing a unit for a lifetime of use. Whichever option you choose, you will not regret having a daily dose of light in your life! 
Need help deciding? Contact us for more information on which plan is right for you.
For a comprehensive overview of Light Therapy, take our on-demand seminar, Is Light the New Needle: An Overview of Light Therapy.  For practitioners, this seminar also counts towards CEU credits.
Benefits of Inlight Therapy Products
The light therapy industry is growing rapidly. Some experts believe that by the year 2025 it will become a $1 billion dollar industry.
Inlight has been helping people for 36+ years, and in the last 5 years alone has shipped 100,000 Inlight Therapy systems to a growing list of happy customers.
Safe & Simple
FDA Cleared, Class II Medical Device
Proprietary Progressive Multi-Pulse™ Technology
Engineered, designed, and managed in the USA
System Packages are ready to use out of the box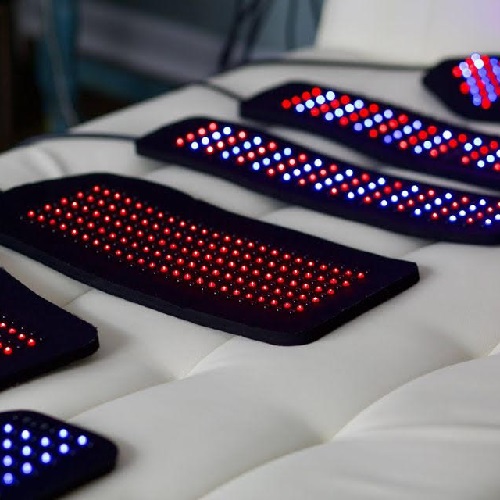 ABOUT INLIGHT THERAPY
Inlight Therapy is a family-owned and operated business that has been helping people for over 36 years. In the last five years alone, they've shipped 100,000 Inlight Therapy systems to customers around the globe.
Contact me to learn about the Inlight Therapy affiliate program.
How are Phototherapy Patches different from LED Light Therapy?
Phototherapy patches are non-transdermal wearable technology designed to create specific biochemical changes in your body, such as an increase in glutathione.
LED Light Therapy is a pad-based system designed to increase your nitric oxide levels and, therefore, increase circulation & reduce pain and inflammation.
Where can I find more information about the InLight Therapy LED Light Therapy system?
You can find more information about InLight
here.
You can also go to PubMed.gov for studies on specific conditions.
Where can I find more information about LifeWave Phototherapy patches?
You can find information on Lifewave's patches and the science behind their patents
here.
There are so many different acronyms for light. What is the difference?
LED: Light Emitting Diodes
PLT: Polychromatic Light Therapy, meaning multi-colored
PBM: Photobiomodulation
Phototherapy patches: Wearable patches that are activated by your body.
I would like to own my own InLight Therapy device. How can I purchase one?
I would like to order LifeWave phototherapy patches. Where should I begin?
The best way to begin is by becoming a Preferred Customer. You will receive wholesale pricing and free patches every month for a nominal fee. Reach out to us for more information or assistance to do that.
Are there any contraindications using Light?
No, there are no contraindications as light brings the body back to balance. We are not treating any medical condition with light, only reducing inflammation and increasing circulation. If you have a history of seizures or active cancer, do not use LED Light directly over your eyes or over an active cancer site.
What is the refund policy?
When you purchase your patches directly from Lifewave, there is a 90-Day, no risk, 100% money back guarantee. If you purchase an InLight Therapy unit, you have 30 days to cancel the transaction.
I want to sell light and become a business builder with you. How do I do that?
Easy, join our team! We have all the information on our Affiliate Page.
Reach out to
schedule a complementary phone consult with Jennifer directly from her website or
Mindbody On-line.
What can I expect when using Light Therapy?
You can expect to start feeling better immediately! Some people feel a lot, some do not. It has been proven that light is activating biochemical changes even if you don't feel anything. Make sure to drink plenty of water, as it works best when you have a hydrated system.